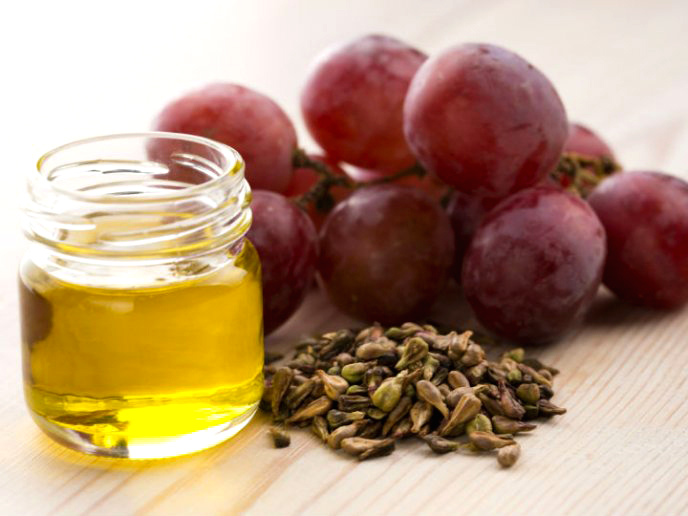 Inside the grapes, in those small and discreet seeds that we all remove so as not to eat them, and which are treated as residues in the processes of making wine and other beverages, hide very valuable properties and for many unknown until now. Grape seed oil is a great detoxifier, rejuvenating, anti-inflammatory and antibacterial.
The science of modern medicine has now highlighted the value of many foods that were not found in people's regular diet. Many foods go unnoticed for their taste, but when they were studied they proved to be very complete foods, both in nutrients and in other substances conducive to health. This is the case of grape seeds or grape seeds.
Grapes in general have always been a food that has been taken into account by laboratories all over the world. Grape is a fruit with exceptional health properties, and in many pharmaceuticals such as body products the grape fruit is found as a base.
The discovery of regenerative and curative properties in grape seeds is an achievement of modern science and its use in industry has led to the realization of different products that add more and more consumers in their ranks, in many cases above traditional consumption alternatives.
Properties of grape seed
- One of the main benefits of grape seed is that it has a large amount of antioxidants, such as polyphenols and tannins. These substances protect the body from free radicals, preventing premature aging and deterioration of organs, tissues and cells, thus helping to keep the body young and avoid wrinkles, withered or aged skin.
- It is one of the best antioxidants that exist, exceeds in positive effects to vitamin C, E and beta-carotene, stay for three days in the body effectively fighting free radicals.
- They help to promote blood circulation.
- Protect the body against deterioration caused by pollution, tobacco, smoking cannabis, stress, alcoholism, etc.. It even helps passive smokers to protect themselves from the effects of such pollution.
- It effectively helps to purify the blood of excess medicines and aggressive agents that make it sick and contaminate it.
- Due to the presence of bioflavonoids, it helps to reinforce the walls of the blood vessels from the first hours after having consumed them.
- Excellent remedy for heart problems, for which it is recommended to follow the diet of the grape.
- It is a powerful anti-bacterial and anti-inflammatory, so it helps for innumerable inflammatory or bacterial diseases such as arthritis, dermatitis, skin problems, sinusitis, colitis, gastritis, etc..
- Excellent remedy to keep the skin, eyes and brain in excellent condition.
- Helps prevent colon cancer.
- It purifies intestines.
- Prevents degenerative diseases.
- Prevents the formation of plaques in the arteries.
- Helps hair growth, so many alopecia products use it to prevent hair loss.
- Helps to maintain soft and healthy connective tissues.
- Stops the development of cataracts.
- Prevents lung diseases and helps in cases of pulmonary emphysema.
- Strengthens defenses and increases the health of the immune system, helping to prevent diseases of all kinds.
Grape seeds and beauty
Antioxidant substances, besides being very beneficial for the body's organs, are also very sought after in the esthetics industry. The antioxidant substances are very functional for the care of the skin, since it is the oxidation of the cell the base of all the flaws that we consider in the skin.
Another very important property of grape seeds is the high concentration of flavonoids. This type of protein is elemental in blood circulation and in blood purification processes. Without a doubt, it is the main factor that makes it possible to cleanse the body and why grape seeds are so useful in different treatments.
Flavonoids are the main natural substance inside the blood that prevents the formation of plugs or thrombus in veins and arteries. Many products based on grape seeds are used during heart attack situations or to prevent this type of discomfort in the body. Flavonoids not only remove fat and other substances from the blood, but also from the rest of the body's organic tissues.
Grape seed oil
Grape seed oil is very complete, since it is used in different fields: gastronomy, dietetics and cosmetics.
Benefits of grape seed oil in gastronomy.
In cooking, it serves as an anti-cholesterol oil, unlike olive oil.
Ideal for salads, marinades or vinaigrettes. It can also be associated with other oils stronger in aromas. In terms of diet, this oil is highly appreciated for its nutritional and energetic effects.
Benefits of grape seed oil for the body.
The cosmetic uses of grape seed oil are several since it contains a significant amount of tannins, vitamins, and fruit acids that give it an exfoliating, illuminating and protective action at the same time. In fact, it is used to combat skin ageing. Its illuminating property makes this oil an ideal product to give more life to the skin of the face.
This oil is generally used for massages or baths, thus making it possible to fight against the harmful effects of UV rays. Due to its vitamin E content, it has emollient properties and its rate of unsaturated fatty acids gives it a calming power. In short, it is an ideal product, for example, for hand care.
To combat cellulite, grape seed oil is its main active ingredient. This body oil is highly appreciated for its high content of polyunsaturated fatty acids. This oil is well tolerated by the skin and acts effectively to combat dryness and dehydration.
A care cure to combat cellulite associated with the use of oils containing grape seed as the Firming Oil improves blood circulation and elasticity of the skin. In massages with grape seed oil, the effects can be surprising, and visible in 14 days.
Uses of grape seed oil in cosmetics
1. Dry and delicate skins: It can be used in all types of skin, but they are very useful in dry skins and with sensitivity for its highly moisturizing and protective power. Providing them with a large amount of vitamins and minerals.
2. Hair loss and strengthening: Its ability to strengthen the blood vessels and capillaries, give it anti-hair loss properties. By improving blood flow nutrients are transported to the hair follicles, and the hair improves its growth and strength.
3. Cuperosis and rosacea: Helps strengthen and repair damage to capillaries and blood vessels. Improving circulation and relieving skin suffering from rosacea or couperose.
4. Dermatitis and acne: For its slightly astringent, antiseptic and anti-inflammatory properties can help reduce acne and dermatitis.
5. Healing of wounds and scratches: It favors the processes of repair of the skin and its cicatrization, reason why it can help us in cases of small wounds and scars.
6. Massages: In cosmetics, because of its neutral smell and non-greasy texture, grape oil is used for massages or for daily care of the skin of the face and body.
7. Stains: Used to prevent and control spots on the skin.
8. Stretch marks and reaffirmation: Its rich composition and its tensing and regenerating properties combine to effectively combat flaccidity and stretch marks. For this purpose, and to strengthen its effects on tensioning treatments, it can be used by diluting a few drops of firming essential oils, such as lemon, cypress, bitter orange, etc.
9. Nutrition and shine in the hair: Something as simple as regularly applying grape seed oil to the hair guarantees a shiny and deeply moisturised hair. It can be applied as a pre-washed mask. Spread the oil over the entire length of the hair and let it act for 20 to 30 minutes, before washing our hair normally.
Lanzaloe's Vinotherapy line is based on Malvasia grape oil from the island of Lanzarote and organic Aloe vera grown in the north of this volcanic island. A combination that your skin will not be able to resist.