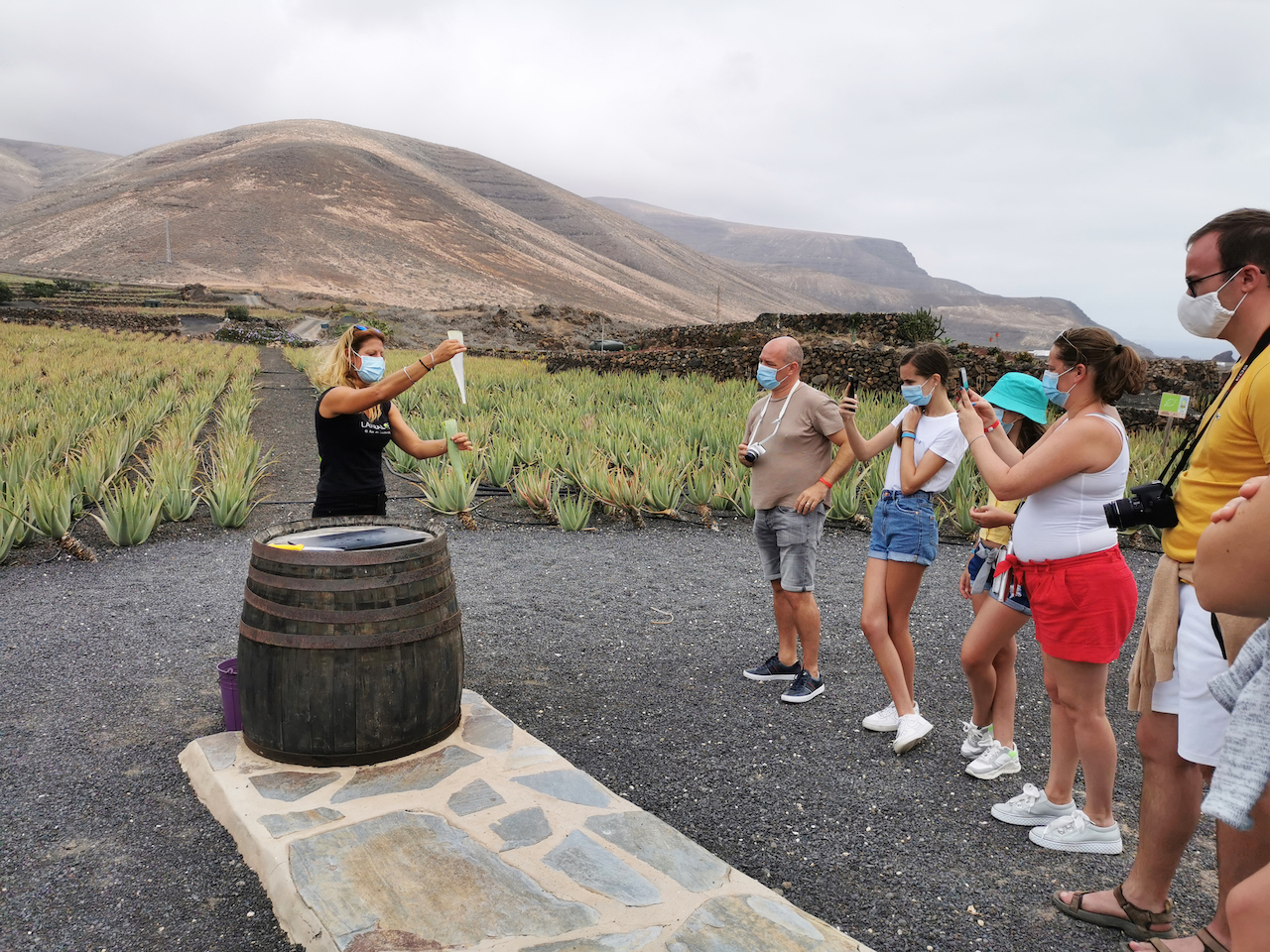 The largest organic Aloe vera plantation in Europe
With more than 250.000 Aloe vera plants, Lanzaloe Park has been recognised as the largest ecological Aloe vera plantation in Europe and has been declared ''Centre of Tourist and Cultural Interest''.
Lanzaloe Park is located in Órzola, the connecting village between the islands of Lanzarote and La Graciosa, in the totally wild and volcanic environment of the north of Lanzarote.
Outdoor experience
As you can imagine, in Lanzaloe Park, you will find many Aloe vera plants, but... is that the only thing you can find?
In the last few years, we have expanded our fields and since then we have argan trees, vines, prickly pear cactus and even moringa. You will also find gardens with different varieties of cactus and other plant species.
We have prepared an itinerary inside the park of about 30 - 40 minutes so you can discover the plantation and learn about all the plants we grow, recycling and sustainability.
The trail is outdoors, surrounded by volcanoes, simple and suitable for everyone. You can walk it with your partner, alone, with your family or friends.
Remember to ask our staff for your trail map!
You can also download it through this link and we collaborate together saving waste. Although... the map is printed on 100% recycled paper!
Plan your visit
Lanzaloe Park is open from Monday to Sunday from 10h00 to 18h00. You can check our opening hours on specific days by clicking here. 
We have a very dynamic team ready to help you in the language you need (Spanish, English, French, German, Italian, Dutch...) and to help you discover the secrets of the world of Aloe vera.
The plantation has a large free car park which you can use while you enjoy the scenery and the walk.
If you are planning a large group visit and you are interested in booking a date/language with us, please do not hesitate to contact us on 639 906 509 or 928 173 960. You can also send us an email to atencionalcliente@lanzaloe.com
We are located at:  La Quemadita 96, Órzola-Haría, Lanzarote, Canary Islands, Spain 35541
Enjoy a beautiful experience at Lanzaloe Park!