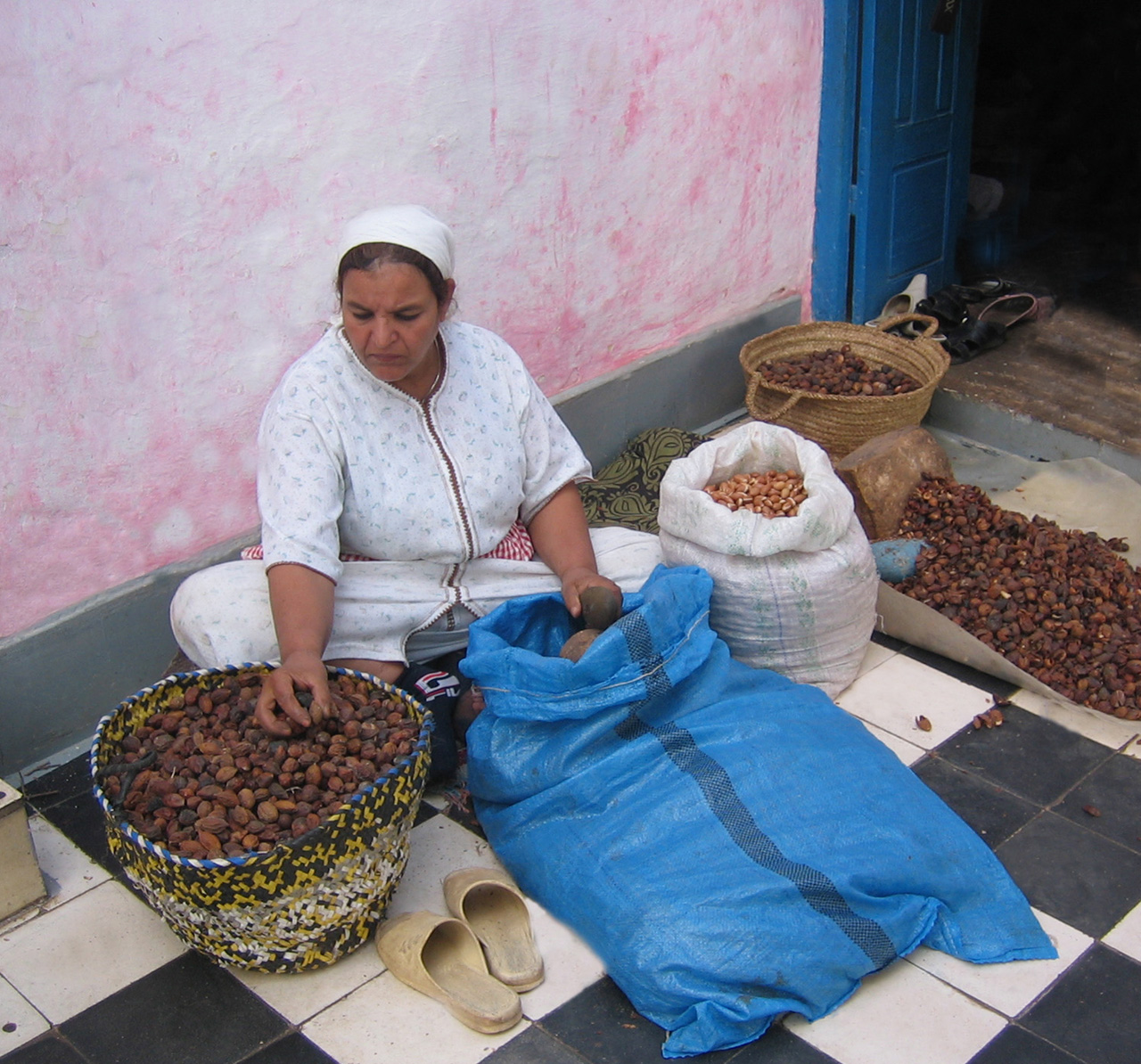 Argan Oil has acquired much fame in its cosmetic use due to its numerous health benefits, nourishes the skin, hair and slows down the aging process. Because of this and many other reasons it has earned the nickname "liquid gold".
Argan Oil is extracted from the fruits of the argan tree (Argania spinosa). It takes 35 kilos of its peculiar fruits to obtain a single litre of the precious oil. This is why this oil is one of the most expensive in the world.
Argan trees are found in southwestern Morocco. They are very well adapted even to extremely harsh and dry environmental conditions. The roots of the argan tree grow deeply even under arid and semi-arid soils.
In 1999, UNESCO declared the Argan forests a World Heritage Site to protect the World Biosphere Reserve from extinction by deforestation and desertification.
For its extraction is necessary a slow and laborious process developed exclusively by women, today there are 300 women's cooperatives dedicated to the production of argan oil in the North African country.
The recovery of this elixir has revolutionized the world of beauty and life of the inhabitants of this Moroccan region.
Thousands of women have already started to work in one of the 300 cooperatives and earn a stable salary. The money obtained from its sale allows financing literacy projects in the area and, most importantly, provides a means of subsistence for women, especially widows and divorced women. Female illiteracy has risen from 95% to 50% in the area in 20 years and the Government has committed to reforesting 200,000 hectares of Argan trees by 2025.
Lanzaloe works with one of these cooperatives.
Benefits of Argan Oil
Argan Oil has vitamins, minerals and fatty acids that are highly beneficial to the skin and hair.
Argan in the skin
It is suitable for oily skin with acne tendency. It is non-greasy and penetrates easily into the skin.
It is healing, so it is recommended to help the cicatrization of burns and wounds, as well as for the prevention and reduction of stretch marks.
Argan Oil is ideal for eliminating and preventing signs of skin aging. In other words, it acts as an anti-aging product, diminishing and preventing the appearance of wrinkles and providing luminosity, flexibility and smoothness to the face.
It is very suitable for soothing erythema, in other words. skin irritations.
It is antiseptic and antifungal.
Argan and hair
Moisturizes the hair, reduces dryness and gives it a lot of shine. To do this, put a little oil in your hand and rub the scalp. Let it act for an hour and rinse as you always do.
For curly hair: if your hair is difficult to comb and very frizzy, add a little Argan Oil when combing your hair. You will see how easy it will be to tame it!
For split ends: if you notice that your hair is slightly damaged and has split ends, you don't have to cut it. Just apply Argan Oil every day to the ends to see how after a short time it looks visibly healthier, you can mix it with a little Pure Eco Gel.
For dandruff: if you have a dry scalp you may suffer from dandruff, itching or irritation, but if you put a little Argan Oil in your hair before going to bed and wash it the next day you will notice a great improvement with the passing of days.
1.- Ethnobotany, phytochemistry and biological properties of Argan tree (Argania spinosa (L.) Skeels) (Sapotaceae) - A review Hicham Mechqoq a, Mohamed El Yaagoubi a, Abdallah El Hamdaoui a, Svetlana Momchilova b, Jackson Roberto Guedes da Silva Almeida c, Fouad Msanda a, Noureddine El Aouad a,d,*