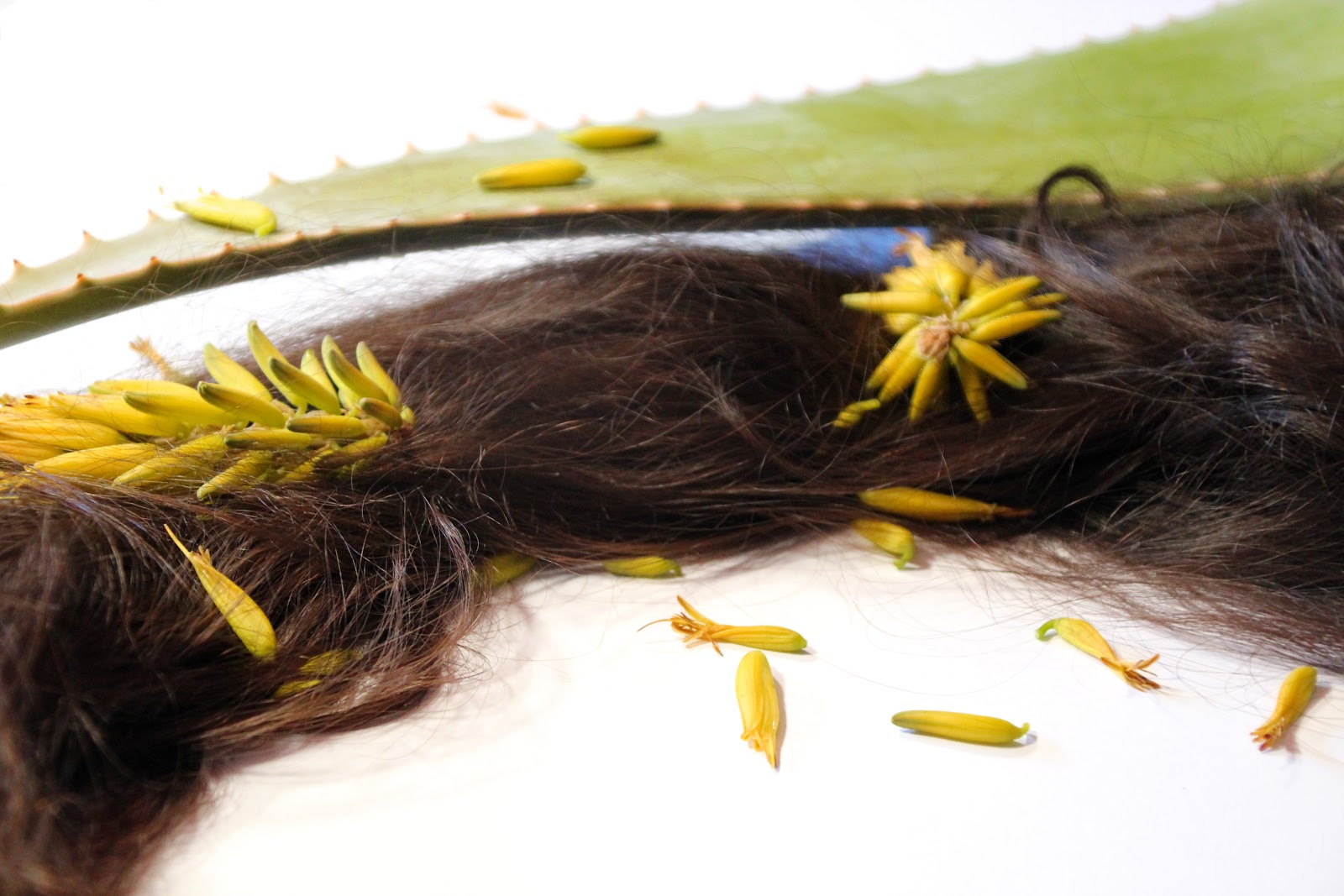 Since ancient times, hair and the way it is worn has been part of each person's personality. In some cases it is even a religious symbol or a symbol of social level and strength.
For hair to be attractive it must look healthy and natural. Hair is considered today by many women and men as an important and indispensable part of their personal image.
The metabolic processes for the creation of hair are complex and involve different categories of elements and molecules:
- Minerals such as iron and zinc are fundamental for the production of proteins that make up hair. The low presence of iron is known to cause hair loss.
- Vitamin D is essential for hair growth. Vitamin C is also important for iron absorption.
- Biotin (Vitamin H) and other B vitamins can help promote hair growth.
The aloe vera leaf, and therefore the juice, has vitamins such as A, C, E, folic acid, choline, B1, B2, B3, B6; and minerals including calcium, magnesium, zinc, chromium, selenium, sodium, iron, potassium, copper and manganese. As we can see, aloe vera has an infinite number of benefits for our health and for the health of our hair.
It is also high in amino acids and fatty acids, also involved in the processes of synthesis of keratin, the main component of hair.
The drinkable juice of Aloe vera unites all the vitamins, minerals, amino acids involved in the synthesis and growth of hair, for this reason it is advisable that a treatment with drinkable juice accompanies the topical application of pure gel (or pure eco gel).
The advantages of a topical treatment with pure gel (or pure eco gel) are the following:
Skin protection
Human skin is made up of cells that age and peel off to make way for new cells. However, exposure to undesirable elements such as ultraviolet (UV) radiation or atmospheric pollution can cause the skin to develop certain problems related to skin cells, such as premature aging. Fortunately, Aloe vera stimulates the skin and facilitates the growth of new cells. On the other hand, Aloe vera gel can absorb between 20% and 30% of UV rays.
Controlling sebum production
Aloe can moisturize the skin without leaving it greasy, thus controlling sebum production. As we know, sebum produced in excess by hair follicles is the cause of greasy hair.
Combats dandruff
It helps to maintain the natural oil of the scalp but not in excess, so it is an ideal remedy to stop the dryness in it and avoid dandruff.
Slows hair loss
This plant contains an enzyme that promotes the growth of new hair and also prevents hair loss.
Hydration
Never again will your hair look dry or broken with split ends. Thanks to the large amount of water contained in Aloe Vera and its substances and properties, is one of the main products that serve to keep your hair hydrated, with the strength and shine you need. It also helps to open the pores located in our scalp, allowing nutrients and vitamins to penetrate more easily and have better effects on our hair, which enhances its brightness and beauty. Being a great ally to uncover and penetrate the pores of our hair, Aloe vera also serves to stimulate circulation and promote growth.
How to use the Pure Gel
- Stimulate hair growth. One solution is to apply pure aloe vera gel (or pure eco gel) to the scalp. It will act on the hair follicles cleansing them while providing them with the necessary nutrients to stimulate hair growth.
- As a conditioner. For its powerful moisturizing effect, bring a plus of luminosity and hydration to your hair, using pure aloe vera gel (or pure eco gel) for hair as a conditioner is essential. Once you have finished cleansing and rinsing, let the aloe vera gel act for about 15 minutes, then remove with warm water. You can apply this mask three times a week.
Having healthy hair is not so difficult, with basic care and 100% natural remedies your hair can be more beautiful than ever.